That's right, I've finally finished the blog about the most amazing weekend EVER!!! And it was so much more amazing then I ever could have imagined it being... Here's the recap, going to be a long post, so either bear with me or just skip the text and look at the photos =P
-Friday-
It was a rough day for me. The week over-all was pretty stressful with two huge exams. My calculus exam Friday morning was the hardest test I've ever taken. It didn't help at all that I could not concentrate cuz I was too busy counting down the hours until my flight. After chem was over, I went back to the dorm and finished packing up, then did my homework. Band practice was cancelled the day before by my hero, Mr. Ellis. That made my life 50 times less stressful. Jess got back from her last class and then we drove to Orlando International. It's definitely the coolest airport I've ever seen.


My flight left at 7pm. I flew Song by Delta. It was the cheapest flight and definitely the coolest I've been on, so good deal for me =) They had TVs on the back of every seat and in flight trivia games to play with the other passengers on the TV screens. And free music and satellite TV. And decent (if over priced) food. Highly recommended by me!

After the plane touched down in LA I was practically jumping up and down as I got off the plane. I got on the escalator and started down towards where you pick up baggage and the first people I saw were Daniel and Jacie because Kyle was pacing while waiting for me. They point to him and he comes out from behind a pillar and glances up at the escalator and then looks back and realizes it was me and stops and just stares and smiles. I get off the escalator and go to him and give him a huge hug... it was surreal. He said I look even more beautiful in person =D Awww soooo sweet!!
Then Daniel and Jacie drove us to the hotel in Van Nuys and dropped us off. We checked in and crashed there for the night. We stayed up almost all night just talking about how unbelievable it was that I was actually there and we had finally met.
-Saturday-
We woke up the next morning and Jacie came and picked us up from the hotel. We all went back to Jacie's house and hung around there until Nike got there and there was a Laguna Beach reunion between her and Jacie. It was cute =P Then they went to a Polish food fair or something and Kyle and I borrowed Jacie's car and went to the Town Center (Santa Clarita Valley Mall) and walked around the mall for a little while. Then we went to Johnny Rocket's and had some burgers. Kyle was having problems eating his =P We played "She's Lost That Loving Feeling" on the jukebox and Top Gun quickly became the theme of the weekend.
After lunch we went back to Daniel and Kyle's house and I gave him the first part of his birthday present, which was, oddly enough, the Top Gun DVD. So we hung out at his house and watched the first part of the movie. Then we went and picked up Jacie and went to a resturaunt called Islands. We had dinner there with a whole bunch of friends... the two of us, Jacie, Daniel, CJ, Sarah, Tall, Nike, Dominick (Nike's brother), and Corey. It was fun and yummy.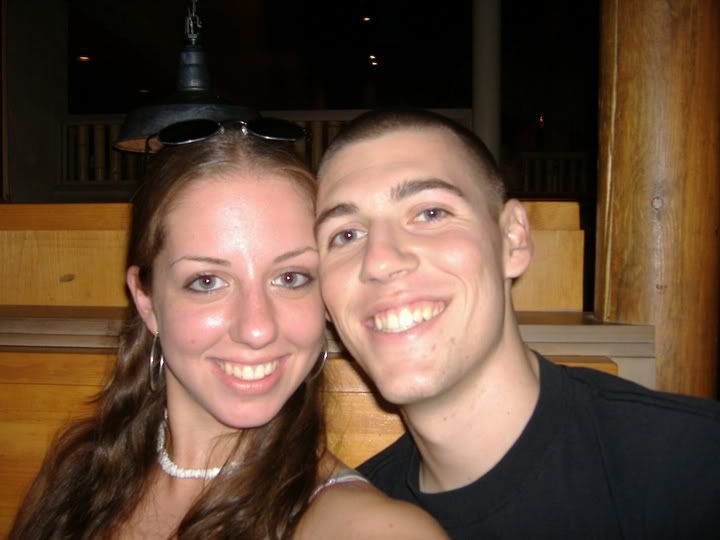 After dinner we went back to Jacie's to pick up some extra stuff before we headed off to the guys' house again and pick up all of their stuff. Then Kyle and I took Jacie's car and Jacie drove with Daniel and we all drove out to the beach at like 9 at night after a quick pit stop for gas and some snacks. Then we drove around completely lost in the Marine Layer cuz we couldn't see through the mist at all and we were following Daniel who had no idea where he was going.
We finally found someplace to camp out at about 10:30 after making a kajillion u-turns (hereafter referred to as "pulling a daniel"). We parked the cars off the side of the road and the guys pulled the tent out of the back of Jacie's car and found a place to camp out on the beach next to a house made of washed up wood. Daniel was crazy and was walking around barefoot on all of the driftwood. Insane. The guys spent the better part of half an hour trying to set up the two-room tent without any instructions and only one flashlight. Meanwhile, Jacie and I had some female bonding time sitting on the rocks up above them watching and laughing at how how silly our boyfriends are. In the words of Kyle, "We provided you shelter so you cannot complain." Anyways, Jacie and I actually talked a lot and got pretty close in a short amount of time, it was awesome. We went down the rocks using the light from Jacie's cell phone and watched the guys fumble around. Once they finally got the tent set up, we worked our way back up to where the cars were and we all started carrying the stuff back down and got settled in for the night. Let me tell you one thing, the beaches in Cali are COLD... Nothing at all like Florida beaches... but it was kind of a cool change. The stars out at the beach were amazing, so many more than we have here, so Kyle and I stood outside bundled up in sweatshirts and just watched them for a while. Camping on the beach was probably one of the most relaxing things I've done in a long long time.
-Sunday-
We all woke up the next morning and sat around being lazy for a while. Kyle and I went for a "long walk on the beach" (oh how romantic ;P) and Daniel and Jacie went running around like crazy people playing football and such. Then Kyle and I went back and sat in the tent with the window open and watched these crazy mexicans try to fly. Yes, fly. They had parasails... and huge fans attached to their backs. And they turned the fan on and tried to fly. To our extreme surprise, one of them actually got it to work, it was pretty crazy looking. The other ones just kinda sucked. *Take 16* Hehe, it was pretty funny.
We finally got around to taking the tent apart and Jacie and I actually helped that time. We shoved everything back into the cars and I took some pictures as we were leaving the beach...


Daniel knew of some really good place for breakfast right near where we were so that's where we headed off to. After half an hour and pulling several more "Daniels," we finally found this little tiny resturaunt off the highway. The food was AMAZING. Definitely the perfect ending to our camping trip. Daniel provided entertainment while we were waiting for everything by showing us his skills... "artwork"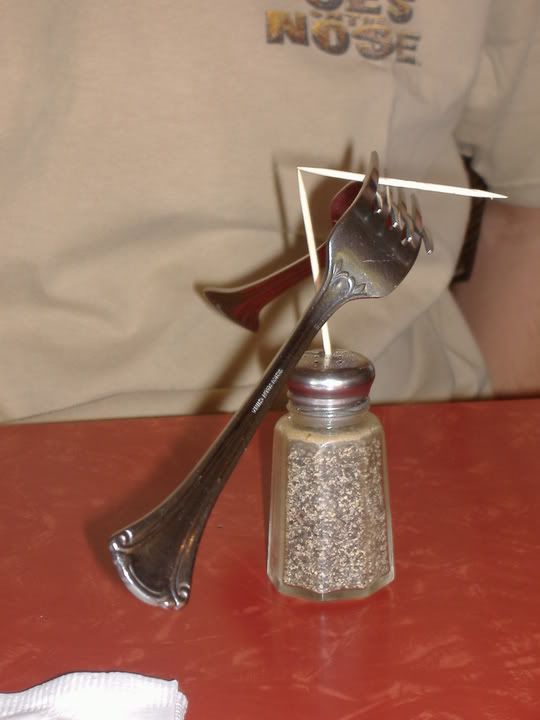 Oh yeah, such skills =P After breakfast we got back on the road and headed back to SCV. We swung by Valencia HS for a little bit to see if anyone was there but no one was so we went back to the house. Everyone took showers to get rid of the beach and then just bummed around the house for a while. I gave Kyle his little UCF bear that I bought him as another part of his present and then he showed me a whole bunch of pictures from when he was little, then a few of middle school and then a whole bunch from jrotc. So cute =P
Later that night we went to a resturaunt called Claim Jumpers with Daniel and Jacie and Kyle's dad and stepmom. (Yes, I met the parents. Scary.) While we were waiting for a table there was this game sitting in the resturaunt that was supposed to tell you how crazy of a lover you are... You hold the handle and it tells you. Daniel and Jacie both got the lowest level and then Kyle got "mild" and I got "wild"... what can I say? 0;) Then we sat down and ate dinner and it was awesome. Kyle's dad kept asking me a whole bunch of questions because Kyle "hid" me for a year. Yup, his dad just found out about me a few weeks ago hehe. Vicki (stepmom) was hilarious, she still acts like a little kid and it was really funny. She got a kick out of Daniel's artwork, she was absolutely fascinated lol. After dinner, Daniel tried the game again and practically broke the machine cuz he was squeezing the handle so hard so that he got the top level, it was pretty funny. Silly marine.
Kyle hadn't finished his sandwich at the resturaunt so he had leftovers. Somehow, his dad ended up with them as we were walking out. So we all said goodbye to his dad and Vicki and get in the car and Kyle was like "HURRY UP before he realizes he has my leftovers!!" So Daniel stepped on the gas and peeled out of the parking lot right as Kyle's dad starts turning back towards us holding the leftovers out. We almost died laughing, omg it was hilarious. We all go back to the guys' house and Kyle and I try to finish watching Top Gun but the TV was being retarded so we gave up and ended up just talking. Somewhere in there, I slipped two books (one about the marines and one about aviation) onto his bookshelf. He really liked them =D Then I had to go to Jacie's house and spend the night there. That was the weirdest part of the entire weekend because except for those couple of hours at her house that night, Kyle and I were together literally 24 hours a day. It was so hard to say goodnight and just leave.
Jacie set up an improv bed for me on her floor and I started to drift off. Then all of a sudden I subconciously notice somthing scratching my back. I wake up and flip out and realized it was one of Jacie's cats. Then I realized that not only had it been scratching me, it had been using me as its personal bathroom. AHHHHHHHHHHHHHHHHHH!!!! So I get up, flip out, go into the bathroom and change and try to get the stench of cat pee off of me and then Jacie and I had to come up with another improv bed since that one was ruined. Jacie threw my clothes in the wash so that they didn't continue to smell like her cat. GROSS. Then we made sure the door was SHUT before we went back to sleep. Yuck, not fun stuff lmao. Stupid cat =(
-Monday-
ANYWAYS. We wake up the next morning and Kyle came over after he dropped Daniel off at the radio station. Jacie made us cinnamon rolls and we had them with milk while we watched Pablo Francisco. That guy is freaking hilarious! "SI!" After that Kyle went outside in Jacie's backyard. The view is incredible... So I took pictures =D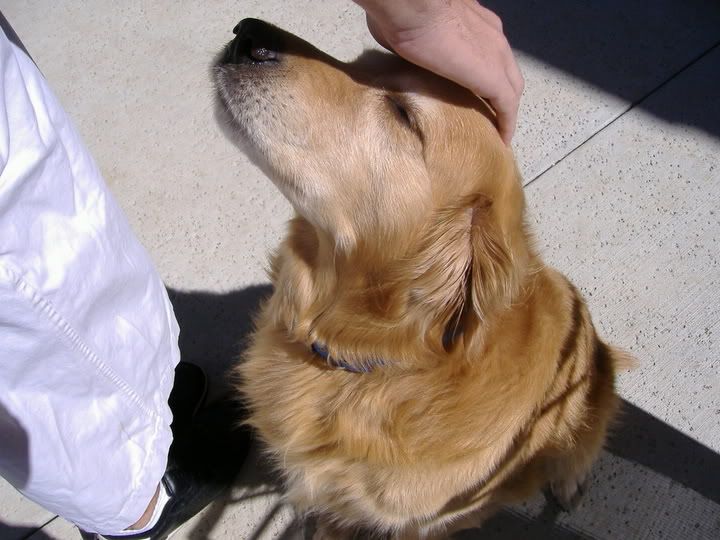 Kyle petting one of Jacie's dogs

Jacie's pool that we never got to swim in =P


We were outside for a while just looking out at the view. It was a pretty big deal since the highest hill I'm used to is a landfill they made into a park back home. Lovely huh? This was much more romantic ;) It was an aboslutely beautiful day outside. No clouds, perfect temperature, a little bit of a breeze. In other words, nothing like Orlando weather.
We eventually drove out to Valencia HS again and went to go visit everyone in the JROTC building there. It was nice finally meeting a bunch of the people that Kyle always talked about. Then he got his rifle out to "show me up." We had also brought two pieces of firewood from his house so that we could mess around with those too. The rifles are pretty heavy but I don't think it would be that hard. I still like mine a lot more because you can do so much more with it. By the way, the firewood he has is retarded. It shaped all weird with no strap or anything. I can't wait to show him up on normal firewood, ours kicks butt ;) We hung out at the jrotc room for a few hours and then stopped by his dad's room real quick to drop off a check or something. Then we stopped at In-N-Out... evidently the epitomy of SoCal-ishness. I got a double-double. Pretty good, I don't usually like fastfood burgers. And really good chocolate milkshake too =D But since we stopped to get food, we were a little late picking Daniel up from the radio station... oops... After we picked him up, we headed back to the house and hung out there for a while. We went out in the backyard and messed around with firewood for a couple hours and Kyle brought down his sabre. Not as dull as ours since it isn't meant to be spun, but it was weighted just about right, so I spun it anyways. Kinda hurt...
After we were done spinning, Kyle went upstairs to go get changed and while I was waiting, Daniel convinced me to try out his IndoBoard thing... balance trainer, you stand on it like a surfboard. Scary as nobody's business, but Daniel kinda held me up so I wouldn't fall and break something. He's really good at it, but I think that's cuz he practices entirely too much =P After Kyle walked downstairs looking all spiffy in his nice pants and black dress shirt, we took Daniel's truck and drove over to Jacie's house so I could change into a black skirt and a nice white top. We looked hott (yes, with a double T).
We drove to Sisley in the town center. Cross Olive Garden with the Cheesecake Factory and you get Sisley. We walked in and everyone in the resturaunt stopped and looked at us cuz we just looked that good. Okay, so that didn't really happen, but we like to pretend it did... we knew we looked awesome and that's all that really matters ;P We sat down and had a nice candle-lit dinner: we split bruschetta, a salad, and chicken parm. Goooood stuff. Of course we both liked all of the same things. Part of our amazing amount of things we have in common, it's pretty crazy. We had some nice long conversations and awesome food and all that jazz. It was my birthday dinner from him even though it was his birthday the next day. Speaking of which... (THIS IS A SECRET)... I talked to the waitresses when I got up to go to the bathroom and they were supposed to bring him a birthday cake and sing to him but they said they were all out =( I was so mad! Oh well, it's the thought that counts, right??
After dinner we drove over to Terry's house... She's Kyle's adopted mother and she really wanted to meet me so we stopped by. Evidently I'm adopted-mother approved as well as the actual parents... and Jacie's parents. And Daniel's... I guess I'm okay for Kyle to keep =D Terry asked what we were gonna go do and she gave Kyle an idea. So after we left her house, we drove over to a place called Whites Canyon. We parked the car in a development and then we took a little walk across the street and then down a narrow dirt path. You get to the end of the path and it's an overlook of most of the Santa Clarita Valley. And it was dark so you could just look out and see the lights for miles and miles. Not to mention the stars were nice (not as good as the beach, but still better than here) and it was freezing outside. So Kyle had to keep me warm. Darn, how upsetting! His dad called we were out there so we both talked to him for a while. I call him "Dad" and he calls me "Daughter," it's pretty funny. Then we went back to enjoying the amazing view. I wish we had views like that down here. The only place high enough is Iron Mountain and it's closed after sundown :( Anyways, here are the pictures from Whites Canyon Overlook...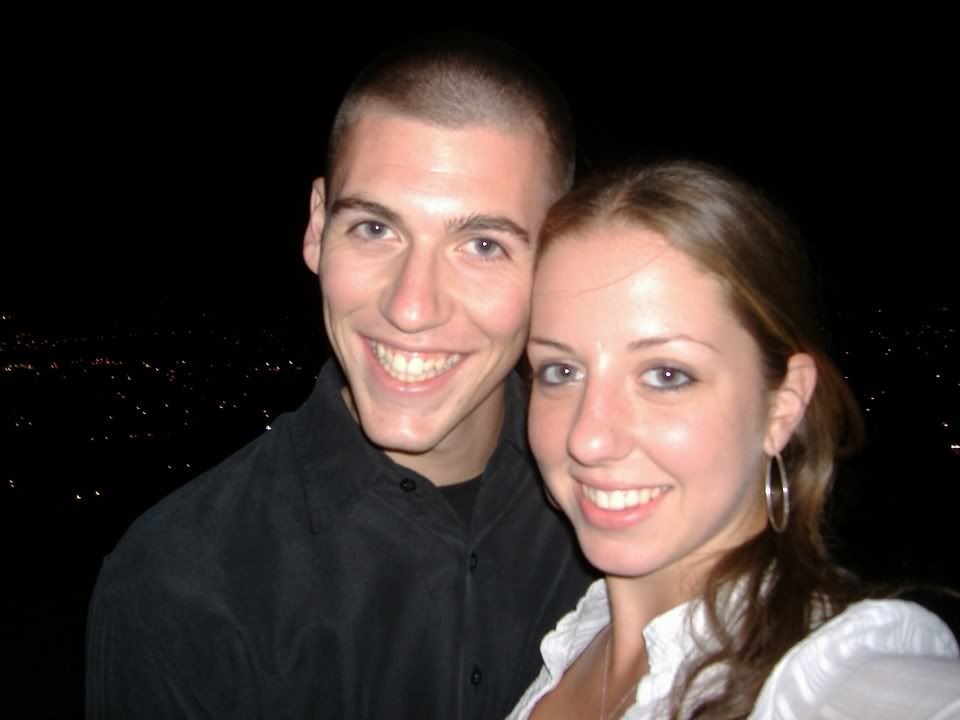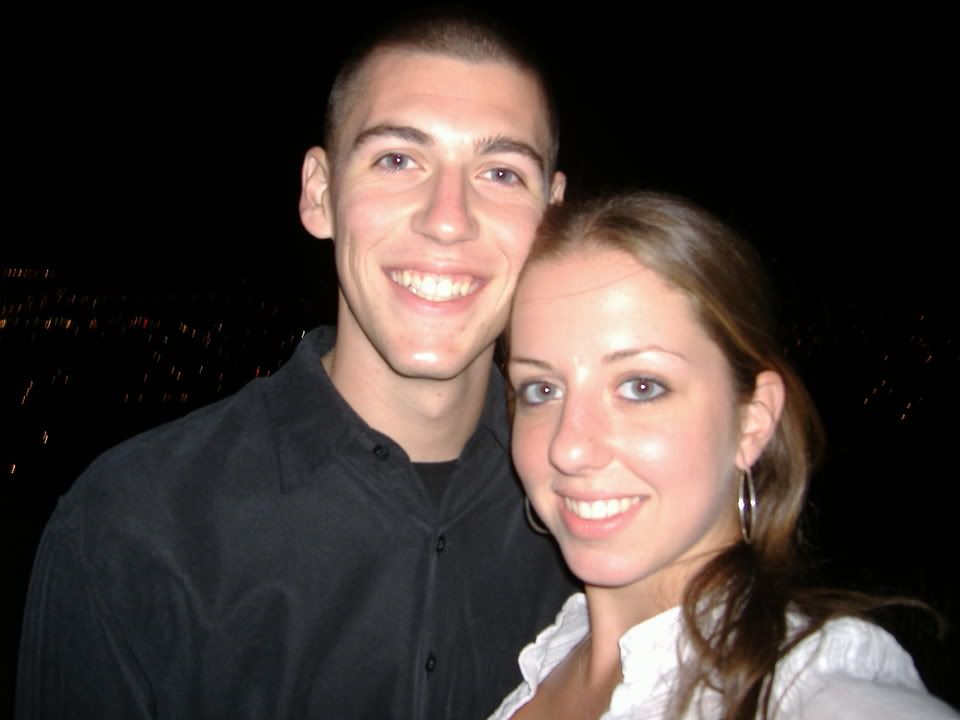 After I was thoroughly frozen from standing outside for so long, we walked back to the truck and just sat there talking for a while. All of the sudden Kyle's like "Hold on," and turns the radio (which had been barely playing in the background) up so that he can hear it. Turns out Daniel had left (on purpose) the Jack Johnson CD in his CD player. The CD had played through at least twice sinde we had been in the truck, but we had never paid much attention. The first song is called "Better Together" and it is basically our relationship in a song. It was so perfect so he started it over and we listened to it again and were amazed by how much it fit...
"Better Together" by Jack Johnson
There's no combination of words
I could put on the back of a postcard
No song that I could sing
But I can try for your heart
Our dreams--they are made out of real things
like a shoebox of photographs
with sepiatone loving
Love is the answer,
at least for most of the questions in my heart
Like why are we here? and where do we go?
And how come its so hard?
It's not always easy as
sometimes life can be deceiving
I'll tell you one thing it's always better when we're together

Chorus:
MMM its always better when we're together
Yea we'll look at the stars when we're together
well its always better when we're together
Yeah, its always better when we're together

And all of these moments
just might find their way into my dreams tonight
But I know that they'll be gone
when the morning light sings
and brings new things
but tomorrow night you see
that they'll be gone too
too many things I have to do
But if all of these dreams might find their way
into my day to day scene
Ill be under the impression
i was somewhere in between
With only two
Just me and you
Not so many things we got to do
or places we got to be
We'll Sit beneath the mango tree

yea its always better when we're together
Somewhere in between together
well its always better when we're together
Yeah, its always better when we're together

MMmmmm MMMmmmm Mmmmmm
I believe in memories
they look so, so pretty when I sleep
Hey now, and when I wake up,
you look so pretty sleeping next to me
But there is not enough time,
and there is no, no song I could sing
and there is no, combination of words I could say
but I will still tell you one thing
We're Better together...
The song has joined Top Gun with the theme of the weekend... it was just so perfect for us. We listened to it a couple more times and then realized something really really bad... I had no idea how I was getting to the airport the next morning. We called Daniel. We couldn't use his truck. We called Jacie. We couldn't use her car cuz she was working. We called Kyle's dad, who could take us to the FlyAway bus station in Van Nuys which would then take us to the airport, but he'd have to get us at 5:30 in the morning... So we called Jacie again to see if Kyle could stay at her house for the night so Kyle's dad could just pick us both up from there, but she said no. So we were at a loss. We ended up calling the hotel near Magic Mountain cuz it was on Kyle's dad's way so he wouldn't have to pick us up until 6. Luckily they let 18 year olds get rooms with out a parent checking them in, unlike the Holiday Inn we stayed in the first night... We drove to Jacie's house and then her and Daniel, who was already at her house, drove us to the hotel so I could say goodbye to my 2 new totally awesome friends. After they left, Kyle checked us in since it was after midnight so he was officially 18 =D Then we crashed to try and get at least a few hours of sleep.
-Tuesday-
Kyle's dad called us at about 5:45 Tuesday morning... and said "I'll be there in two minutes, are you ready to go?" We were like, wait, what?! We had set the alarm for 5am... but it turns out that the clock was 12 hours off.... so it said 5:45pm when his dad called. So we had literally two minutes to change and pack all of our stuff up and go downstairs and check out of the hotel. I have never moved that fast that early in the morning.
Kyle's dad got there a few minutes later and we piled into his van... two seats up front with a whoooooooooooole bunch of stuff in the back. I felt so bad for Kyle, he had to sit on top of a pile of the stuff in the back for the entire ride to Van Nuys :( We got to the FlyAway at about 6:30am so we bought tickets and caught the 6:45 bus. I leaned on Kyle and slept almost the whole way to the airport *yawn* We got there at about 7:30 and my flight didn't even start boarding until 9:40 so we had nothing to do for a very long time. LAX sucks, theres nowhere to go unless you have a boarding pass and we wanted food. Across the street from the airport is the LAX resturaunt which is this huge tower and the resturaunt is at the top and it rotates as you eat. Unfortunately, that resturaunt was closed. Kyle asked some employee walking by where we could find something to eat and she led us to this hidden cafe thing on the ground level. We got some breakfast and sat down and ate/talked for a while. Afterwards we started back over towards the terminal. We went in on the ground level, which is for arrivals and then walked towards the stairs. Kyle stopped me at one point and said, "This is where the most amazing moment of my life took place." I looked around and looked back at him and he said, "This is where I met you for the first time..." I swear my heart melted. I love him sooooooooooo much!!!
We walked back upstairs and still had more than half an hour left until I had to start boarding. We sat down and just held each other and waited. When it was time for me to go, neither one of us wanted to let go. I did not want to get back on the plane, and if it wasn't for school, I don't think I would have. Kyle was ready to buy a ticket and fly back with me and "wing it" once he got here, but I couldn't let him do that, as much as I wanted to... I was so down the entire plane ride home. I listened to the same few songs on repeat the entire flight, the songs that reminded me of him. Leaving him was definitely the hardest thing I've ever had to do, and I felt stupid for letting something so perfect just slip away like that... But I know that everything will be back to the way it should be once he moves down here next year, so it's just a matter of waiting.
And both of us know that it will be more than worth the wait...