Wow, this was definitely the best birthday weekend ever :)



Started out Thursday...
Daniel and I went to the Alehouse to watch the UCF game on ESPN... They lost (surprise!) but it was fun hanging out and finally meeting him in person. Then I went back and watched the rest of the game in the dorms. Then I went downstairs and did laundry. At midnight, I had 4 different people call me to wish me Happy Birthday, including Jed who sang me a horrid rendition of the Happy Birthday song which I put on speakerphone so that everyone else doing laundry could hear him make a fool out of himself too :P He got a standing ovation from them. Of course they were already standing, but it was funny none the less.




Friday...
Fridays suck for me. Period. Honors speech, Calc 2, Intro to Engineering, Chemistry for Engineers.... FUNNNNN. Ummm no. But afterwards Jed took me to Subway (big spender
) for my birthday lunch. Then I went to Joanne's and bought a few yards of really pretty dark green satin fabric and gold cording for... you guessed it... TOGA! I was almost late for band practice cuz the cashier at the store was retarded, so I had to run from the parking lot to the dorm, change and run from the dorm to the practice field and got there about 2 seconds before Reg would have marked me late... Practice went well, we finished putting the rest of the Santana show on the field, fun stuff. Afterwards I took a shower and got all purty and then Jay and Bryan got here from Daytona and took me out to dinner. Cam and AJ and Aaron were supposed to come over. Cam wasn't feeling up to it and I guess the other guys just chickened out =P Anyways, they took me out to Olive Garden, yummy! Dinner was a blast, you know you're going to have a good time with those guys, they are hilarious <3 Bryan told a waitress it was my birthday when he went to the bathroom so I got surprised with an awesome chocolate cake and the whole Olive Garden Happy Birthday song thing. Woohoo! Good times, good times.
After dinner we went back to the dorms where Jeff, who had also come over from Daytona (but on his bike), was waiting for us. Then we all hung out for a little while and then changed into our togas :D I definitely had the hottest toga, but the guys said I cheated by being more attractive to begin with. Oh well, whatever works, right? Hehehe... We got to the party around 11ish. There were already tons of people there. Met up with Mandy, Kelly, and Keven right away, introduced them to the guys. Saw Maleigha (Bryan was trying to remember her name ALL NIGHT and couldn't to save his life) and Tom and a bunch of the other guard girls. Brandon and Josh and Katie got there later. I won't go into too many details... The gist of it is that I got pretty smashed for the first time ever. However it took me about 6 shots worth of alcohol to get there, not too bad for the first time, huh? =P I found out that I'm a very talkative, repetitive, friendly, funny, and VERY entertaining drunk, and I had an awesome time. Even better, I remember all of it and even woke up the next morning without a hangover. "I need a glass of water, Jay." The guys went home at about 11 the next morning. Picture of this amazing event are seriously lacking. I will have some of me and Kelly and Mandy eventually, they will be posted as soon as I get them. If you have any others, DEFINITELY let me know! Thanks!
Saturday-
After waking up much earlier than I though I was going to, I got moving and headed home around 2:15. Got home at about 5:30ish, and much to my sister's dismay, was there before mom and Lauren got home from the store. Oh well. I got lots of balloons and cake and brownies and other various things to make me gain the freshman 15. And there was much rejoicing... yaaaaay... (LOL @ Meg) I got a reallly pretty necklace from the rents... Click here to see it... I got some clothes and accessories from PacSun from Lauren, some very cute stuff. At 8 we went and picked up Lucy and began the 40 minute trek to the best resturaunt ever. On the way I opened up a pretty hand made glass rose from Lucy :) We finally got to the Mai Kai at 8:45ish and waited around in the bar til our reservations at 9. While waiting for my strawberry daquiri, we decided to go take some pictures... (Yup its that time of the post, PICTURE TIME!)
Tiki Band Members in the Bar
Indoor Gardens
Models in the back of the bar
Mom and Dad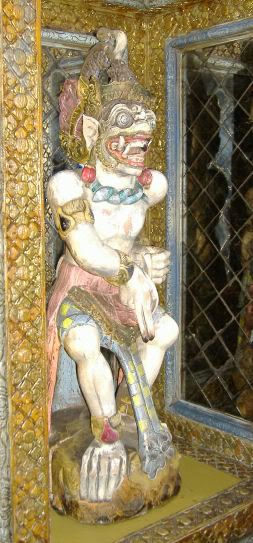 Weird statue thingy in the bathroom... scary...
Lucy pole-dancing in the bathroom... riiiiiight =P
Don't even ask
Mai Kai! w00t!
Us in the gift shop
What's different, can you guess??
We finally went to go sit down around 9:10ish and ordered food. I got Teriyaki Chicken and ate some of the Pupu Platter we ordered. What a funny name :P Then the dancers came out and did a whole huge hula dancing show and fire spinning and polynesian drumming and all that good stuff. Okay enough of the chat, here are the rest of the pictures:
You know it's hott!!
Enjoying our drinks ;)
Aww sisterly love... riiiight =P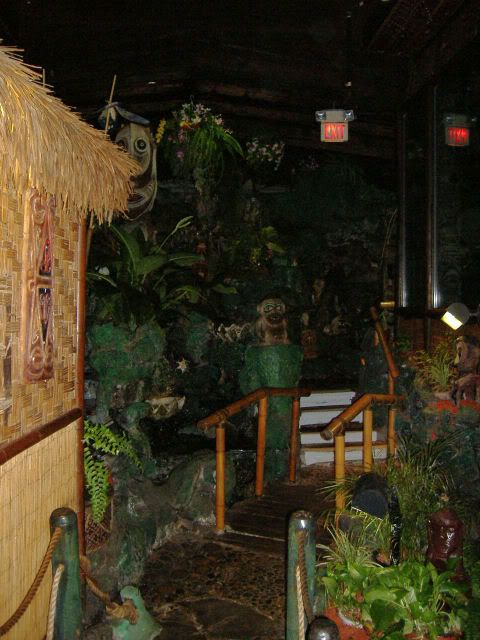 Indoor Gardens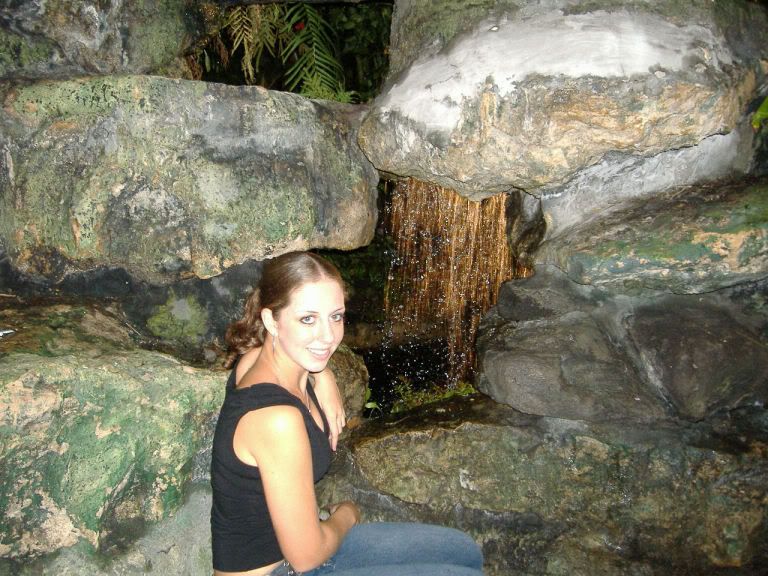 Me and a reallllllly cool waterfall outside
Lauren found her true calling...
So did Lucy...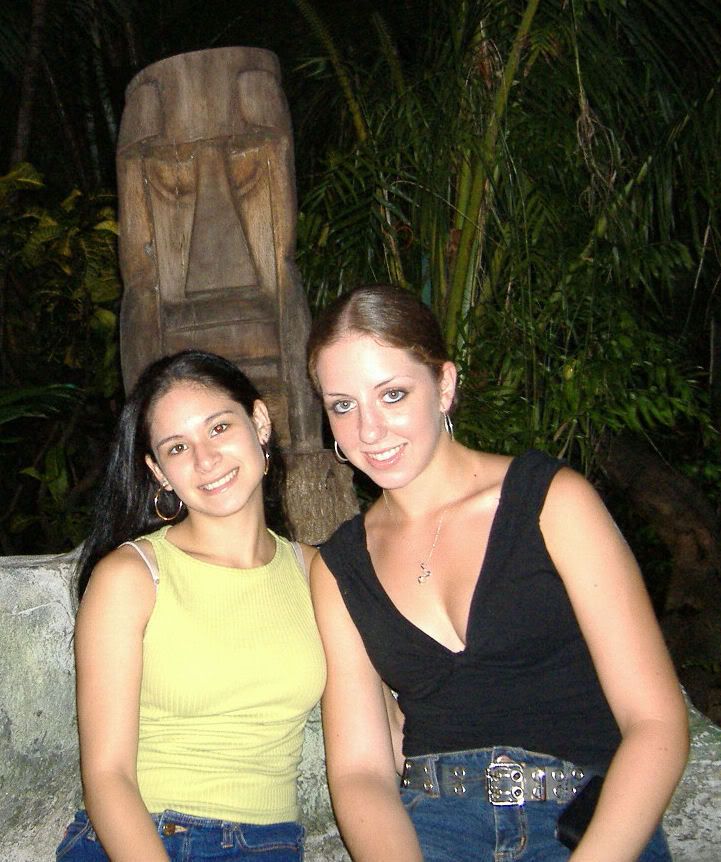 Us looking hott
Lauren and the Big Kahuna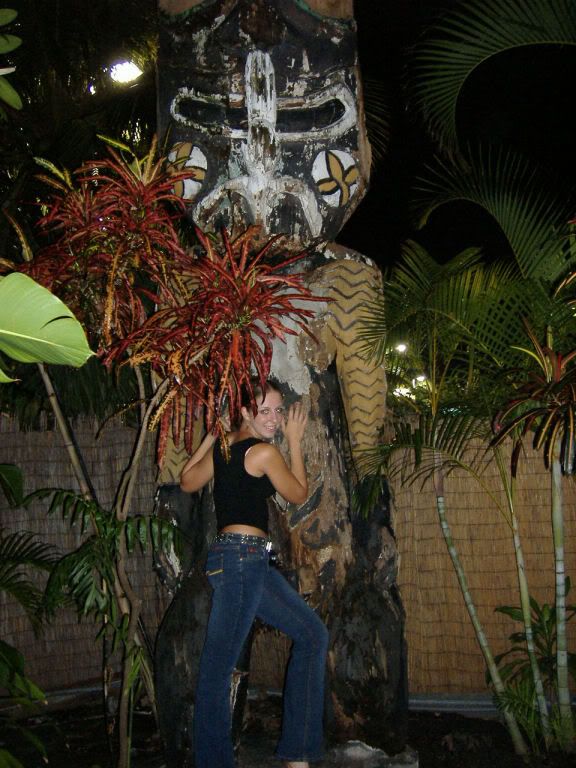 Me and the Big Kahuna
Lucy and her newest boyfriend ;)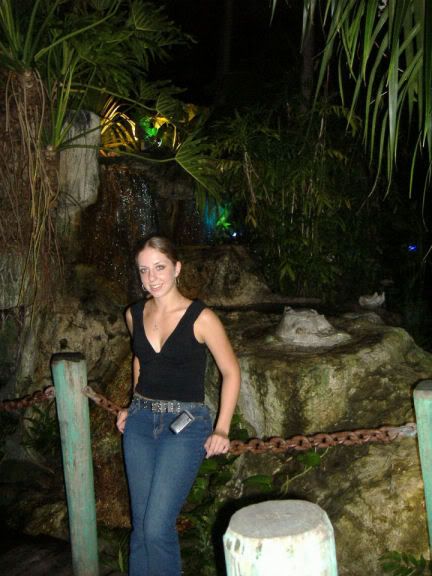 Hanging around...
Kinda bright but you get the idea...
Just chillin...
Gotta love the attitude...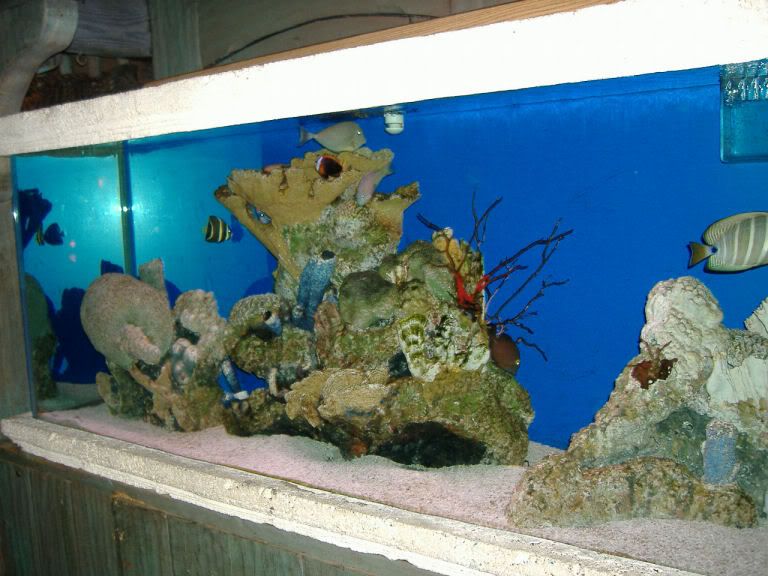 Fishies!!
The Tiki Band on Stage
Out front of the resturaunt.
Sunday-
Sunday was family day. Drove down to Miami with Mom and Lauren to go visit everyone down there. First thing we did was go shopping at BJs... Up and down EVERY isle... my favorite thing to do. I hate shopping, I know, weird for a girl, but it's the truth. Between my mom and my grandparents, we about bought the entire store out. After that we all went over to the Roadhouse right near there and met up with my aunt and uncle and two other cousins. It was crazy, as all get togethers with my mom's side of the family are, but it was fun. Got more cake, presents, etc. Good times :P And I got to hang out with all my little cousins, always entertaining hehe. Okay it's time for more pictures!

The Family

Little Isa, Sooooo CUTE!!!

The Cousins



Isa and I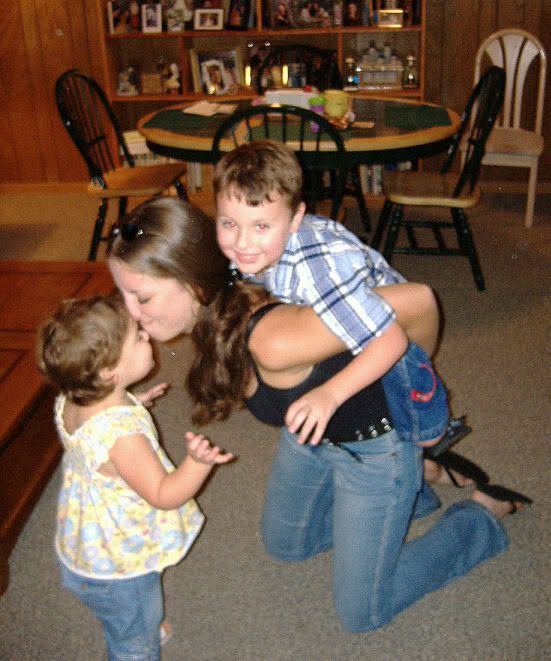 Me and the littlest ones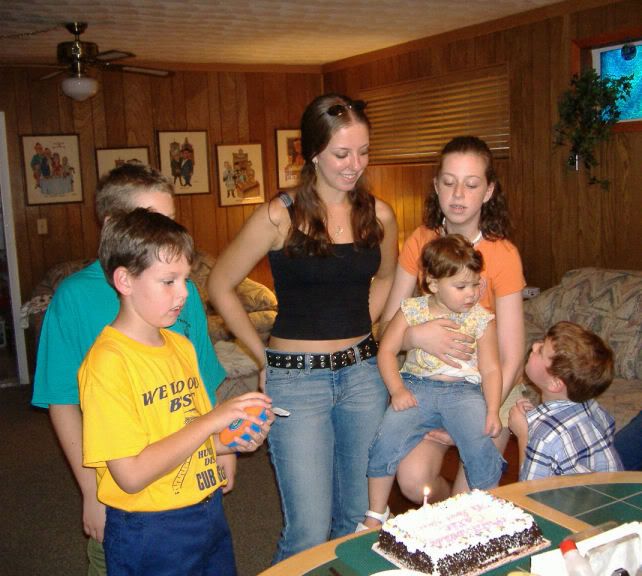 Happy Birthday to me!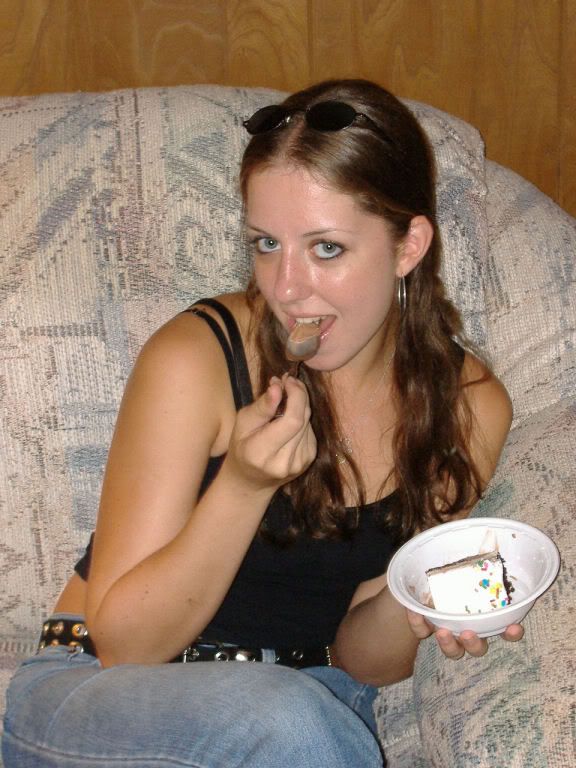 Enjoying my cake ;)



Isa and I



Lauren and Isa
I also have a video of the craziness in that house, click the picture if you want to see it =P




Sunday night was lotsa fun, I went home and crashed for a while and then Blake sent me an IM seeing if I wanted to come over. So I drove over to his house and met up with him, Meag, Mike, Lucy, Madison, Richard, Joey, Farah, Lauren, and Charlotte. We had some good times =P Shot a bunch of games of pool, played some darts, played cards with Richard's playboy deck (Lucy had fun criticizing every single one of those cards), and got into a gigantic whipped cream fight. Way to trash Blake's kitchen! It was fun though. Got an amazing video of that one, quite hilarious. Click the picture to watch it...


Monday I procrastinated, ran a bunch of errands, and then drove home. I think I ran into about 4 hurricanes last night on the drive home, it was CRAZY. Couldn't see a thing whatsoever, I guess it's Tropical Depression #16's fault... Speaking of which, where did that come from?!?! Anyways, I digress. Back to the topic, this was definitely the best birthday weekend I've ever had, and I'd just like to thanks EVERYONE that made it possible... you guys ROCK MY WORLD!!!
Much love
<3 <3 <3